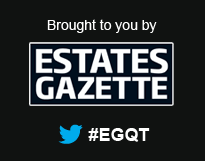 Question Time, Estates Gazette's premier debate and networking event returns with its biggest line-up of cities yet. We are pulling together influential people from across the UK and Ireland so you can ask the questions.
Save the dates in your diaries now and watch out for panellist and venue announcements, including our London showcase event. And don't forget to submit your questions. This is your chance to set the agenda.
| | |
| --- | --- |
| Question Time series partner: | |
London Question Time, Wednesday 7 December 2016
Register your interest to attend London Question Time with Alicia.Alvarez@rbi.co.uk. Places are solely at the discretion of Estates Gazette. You will be contacted if you have a reserved seat.
The iconic BBC Television Centre hosts the property industry's final Question Time event of 2016 as we reflect on a year that threw us more curve balls than any in recent memory, and predict the trends and the challenges for UK PLC in the year to come.
With the landmark White City redevelopment at the heart of a new destination for the creative sector, experts debate how the West will meet the might of the east in the bid for tech talent, as well as the occupier and global investment trends that will define the next 12 months, not least in the face of Brexit.
However, as Question Time tradition dictates, it is the audience that sets the agenda. From housing to high growth markets, and world events to wayward politicians, we get to the bottom of the hottest issues facing property.
The panel includes:
Bobby Zamora, Footballer/Co-Founder, Legacy Foundation
Mat Oakley, Head of Commercial Research, Savills
James Murray, London Deputy Mayor for Housing
Lucy Tilley, Associate Director, UK & Global Projects, Adjaye Associates
Alistair Shaw, Managing Director, Television Centre
Neil Alford, Associate Provost for Academic Planning, Imperial College London
Pippa Malmgren, Founder, DRPM Group
Chaired by Damian Wild, Editor, Estates Gazette
| | |
| --- | --- |
| In partnership with: | |
Glasgow Question Time, Thursday 12 January 2017
SECC, Glasgow, G3 8YW
5.30pm Drinks reception | 6.30pm-7.45pm The Debate | 7.45pm-9pm Refreshments
In a city that is experiencing one of the longest pauses in significant speculative office development, could the Government Property Unit's mega requirement for up to 650,000 sq ft of office space be a catalyst for change in Glasgow in 2017?
Could it take the edge off that lingering grey cloud of Brexit and its bedfellow Indyref2, or are they issues too significant for investors to turn a blind eye to?
And what can the government do further to give the Glasgow economy the kick start it needs going into a rather unpredictable new year?
Put your questions directly to the experts, and meet the movers and shakers of Scottish property at this important industry event.
| | |
| --- | --- |
| In partnership with: | |
Watch highlights and interviews